A Message from our President
Eric Heinrich, Stanislaus County Farm Bureau, President 
 Eric Heinrich joined the Stanislaus County Farm Bureau Board as a Northwest Regional Director in 2004. Eric is now the President of Stanislaus County Farm Bureau. Eric works for his family's business, Heinrich Farms where they grow almonds, walnuts, and other field crops. Eric works alongside his dad and brothers. They all farm their own land as well as other people's land through management, sharecropping, and leases. Eric is a fifth-generation farmer and is raising the sixth generation with his wife, Teresa. Eric and his wife Teresa have five children, four girls and one boy.
Eric's favorite part about farming is watching the crop grow and seeing all his hard work pay off. "We feed it, care for it, and then are able to harvest it," shared Eric. Watching his hard work become this nutritious product they strived for is rewarding. Eric feels that it is an honor and privilege to take care of the land they have been entrusted with. 
Eric really enjoys being a part of the community that grows food. Eric says, "we are raising both almonds and walnuts, we are growing plant-based proteins, something the world is hungry for." Eric wants consumers to know that walnuts and almonds are a great healthy snack. 
Eric is a Farm Bureau Member because Farm Bureau is the best at getting a large group of people together to advocate for agriculture. Farm Bureau has a long history and is filled with great people. Farm Bureau is doing a great job at staying relevant and sharing information on current agricultural issues. Farm Bureau not only works hard to advocate for the farmer but also works hard to advocate for the consumer as well – we want to grow safe quality food for our customers. 
Eric likes being on the Farm Bureau Board because that is where the action is. Eric likes being involved and having a say-so and a voice directly on the board. "I have learned a lot from being on the board and I want to give back and while serving on the executive team." Eric believes Stanislaus County Farm Bureau has an effective board, and he is delighted he can be a part of it. 
Eric will tell anyone who is not a Farm Bureau Member that Farm Bureau is a great place to have one voice on behalf of the entire agriculture industry. There is no other place that has a voice like Farm Bureau. Promoting and protecting is what Farm Bureau does best. We may not always agree with everything Farm Bureau does, but it's the one place we can come together to find common ground and unite!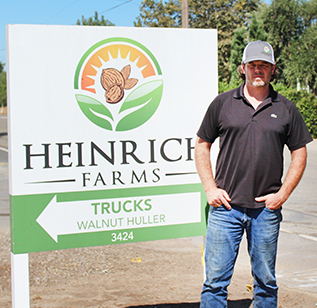 Enter your email here to learn more about Farm Bureau, becoming a member and to receive our bi-monthly E-newsletter, complete with up to date local stories, compliance help, events and local job listings!